Coronavirus Victoria: 1173 new cases of COVID-19
Victoria has recorded 1173 new COVID-19 cases and nine deaths for the past 24 hours, as Premier Daniel Andrews acknowledged the state's health system remained under "significant pressures".
Mr Andrews was speaking this morning amid reports Ambulance Victoria was about to issue a 'Code Red' alert as the service struggles to cope.
"The health system remains under significant pressures," Mr Andrews said.
READ MORE: Australia hits 80 per cent double dose milestone
Mr Andrews and Melbourne Lord Mayor Sally Capp also announced a $5 million voucher scheme for diners in Melbourne CBD.
It is part of a $44 million package to help traders in the city hit hard by pandemic lockdowns.
More than 200,000 rebates would be offered for customers who dined at restaurants, cafes and bars in the Melbourne CBD on Monday, Tuesday, Wednesday and Thursday.
"This is about getting people back to the CBD … but also getting people spending," Mr Andrews said.
https://twitter.com/VicGovDH/status/1457106437319000065?ref_src=twsrc%5Etfw
Industry Support Minister Martin Pakula said the successful Melbourne Cup demand showed Victorians were eager to spend money and help businesses.
"People came streaming back, it was a great racing weekend at Flemington."
Melbourne Lord Mayor Sally Capp said Victoria's rising full vaccination rate – set to hit 90 per cent within weeks was a "game changer: for business.
"We know we're open and we're going to stay open," she said.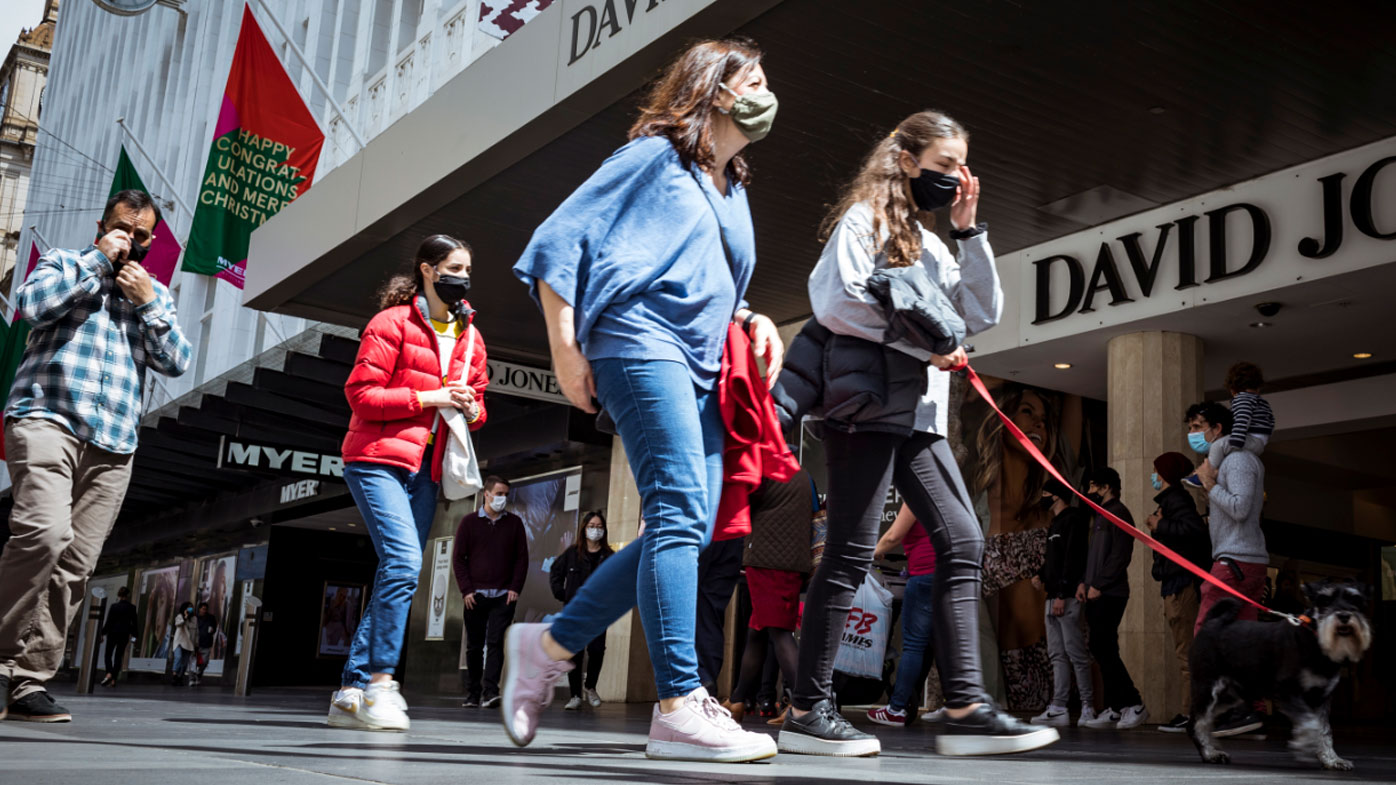 The new funding announced on Sunday will include $15.7 million to boost the city's events with an expanded Christmas Festival two weeks early than usual.
Today's new figures marked a slight fall from the 1269 cases reported yesterday.
Figures show that 80.2 per cent of the population over the age of 16 are now fully vaccinated, while 89.2 per cent of people over the age of 16 have had at least one dose.
GPs, pharmacies and state-run hubs — including drive-through clinics — are all doing vaccinations with AstraZeneca, Pfizer and Moderna. You can make a vaccination booking here
The milestone was celebrated in a video posted by Prime Minister Scott Morrison.
"How good is that?" the prime minister said.
"Ninety-nine percent of Australians aged over 70 have had a first jab, and 90 per cent have had a second.
"That's just extraordinary."